If you already have a Crumble (or even if you don't!); follow these links to download the free software and the "Getting Started" guide. Crumbles and accessories are available to purchase in our shop.
Download Software Getting Started Guide
What?
The Crumble is an easy-to-use programmable controller. It can drive 2 motors forwards and backwards at variable speeds. It has 4 IO (Input/Output) pads which allow connections to switches, LDRs, low power LEDs and so on.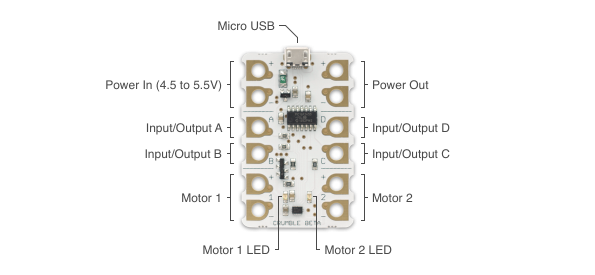 Why?
The Crumble has been designed to encourage tinkering, using 'croc leads' for quick and simple connections. Pads allow terminal blocks to be fitted or a direct solder connection made, while the larger 4mm holes make an easy target for conductive thread and needle.
How?
The Crumble software runs on PC and Mac and Linux (inc. Raspberry Pi). Inspired by MIT Scratch, programs are built by snapping blocks together on screen. Sending a program to the Crumble is almost instant, allowing rapid experimentation. The Crumble can be extended with digitally controlled full-colour LED, called Sparkles. Additionally, several expansions board (Crumbs) are also in the works.
Check out our blog for some simple project ideas.
The video below features prototype versions of the Crumble and Sparkles, but demonstrates their main features.