If you've been active on X (RIP Twitter) over the past few months, or you've visited our website, then you may have noticed that we have some fantastic new accessories available for the Crumble: Smart Crumbs.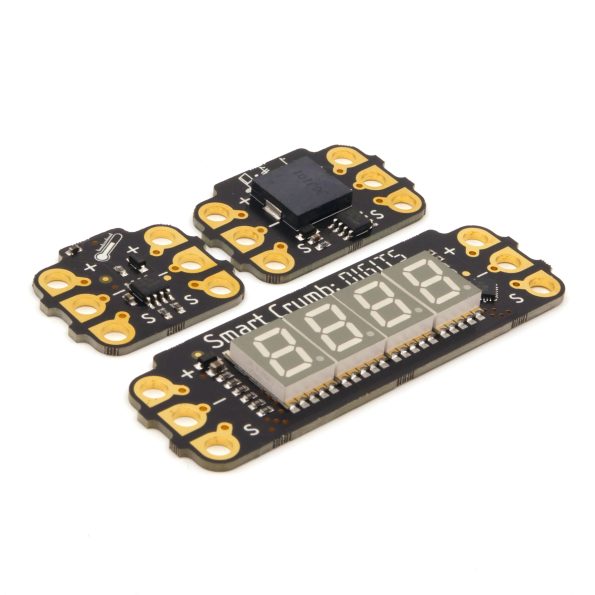 Smart Crumbs are the latest development within the Crumble-sphere and they open up a wide range of possibilities both now and in the future.
What is a Smart Crumb?
A Smart Crumb is an add-on board for the Crumble Controller, which provides a simple way of using and controlling devices that otherwise wouldn't be possible. At the time of writing, we have three available – temperature, pitch and digits.
How do I connect to my Smart Crumb?
Similarly to the Sparkle, you need to provide power (+ and -) and then a single I/O connection. However, unlike a Sparkle, you can connect them to any one of the Crumble's I/O pins (A, B, C or D).
Can I use more than one Smart Crumb?
You can use up to four of the same type of Smart Crumb on one Crumble, one connected to each of A, B, C and D, although you can also daisy chain multiple types of Smart Crumb to each I/O pin. So at the moment you could have 12 Smart Crumbs running off of one Crumble.
How does it work?
We have designed our own single-pin protocol to allow us to send data back and forth without needing to physically change any of the Crumble's existing hardware.
Do I need to update my software/Crumble?
You will need the latest version of the Crumble software for access to the relevant blocks needed to use the Smart Crumbs (look for the Smart tab). As for the firmware on the Crumble, this will automatically be updated the first time you connect with the new software.
Where can I buy them?
Our current range of Smart Crumbs are available to buy from our webshop, either individually or more popularly as a pack of three.
Are there more Smart Crumbs coming?
We plan to develop and release more Smart crumbs in the not-too-distant-future. Possibilities include, more motor support, colour sensing, sound level and more! But if you have any thoughts or ideas please do let us know!